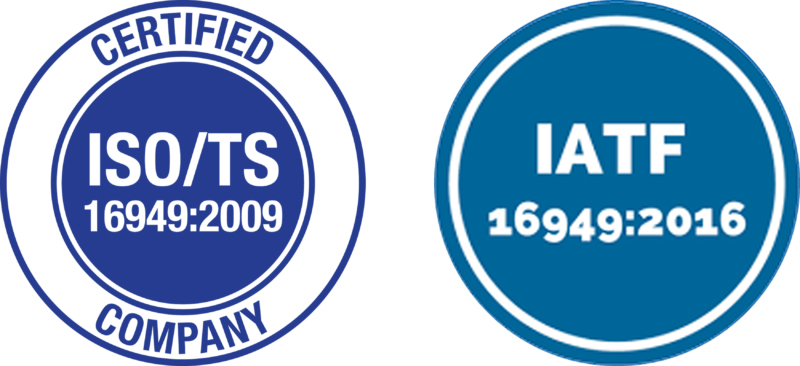 ISO certified
To serve leading companies in the automotive industry, WKK Automotive is ISO 9001 and
IATF 16949 certified.
ISO 9001
Reliability and quality are of great importance for WKK Automotive. That is why we devote a lot of time and attention to quality control and improvement of our products, services and employees by means of a quality management system that is set up according to the ISO 9001 standards. These standards simply mean: we say what we do and do what we say respecting the formulated regulations.
The ISO 9001 certificate ensures that WKK Automotive must and will continuously develop initiatives to improve its quality management system. Not only to improve our business performance, but above all to meet the expectations of you as a customer and to suspass it
(if possible). This company philosophy, which has been used by WKK Automotive for many years, will continue to play a crusial role in the quality policy. Kiwa Cermet Italia S.p.A. does annually independent audits to ensure that WKK Automotive actually monitors and improves its business processes.
Click here to download the ISO 9001 certificate from WKK Automotive.
IATF 16949:2016
The global automotive industry demands product quality, productivity and a world-class competitive level. In addition, companies in the sector must continue to improve. To achieve this goal many vehicle manufacturers require their suppliers to have a certified quality management system for suppliers of the automotive industry: IATF 16949. IATF 16949 is relevant for all companies in the automotive supply chain, from small manufacturers to multinationals with multiple locations, anywhere in the world. However, the standard only applies to those locations where production or service parts for the original equipment manufacturer (OEM) are produced. Organizations that want to enter the automotive market have to wait until they are placed on the list of possible suppliers of a customer in the automotive industry before they can be certified in accordance with this specification.
Click here to download the IATF 16949:2016 certificate from WKK Automotive.